The News-o-Holic and Suyash's Corner interacted with the author who has penned down this exciting thriller novel The Emperor's Riddles. Here are its transcripts:
Welcome to the News-O-Holic and Suyash's Corner, Satyarth. Beginning with your introduction for our readers, tell us something about yourself?
I am a Delhi based author, script-writer and journalist. I did Masters in English Literature from St. Stephen's and have worked with NDTV and CNN-IBN as Correspondent. This is my debut novel. I also love reading and writing short stories.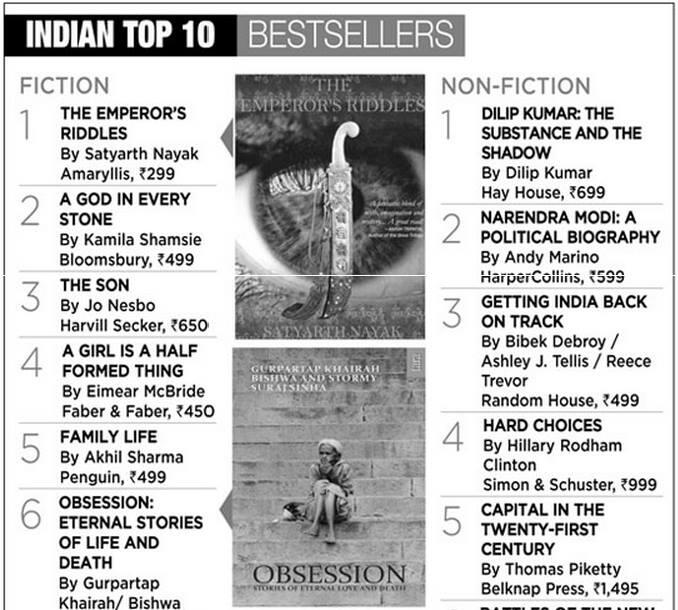 The Asian Age Bestseller chart.
Satyarth, your book has been interesting enough, loved by majority readers and has been at the topmost position in The Asian Age chart. What are your feelings?
I am on the top of the world looking down on creation. Jokes aside, it's an enormous relief that the book has been accepted so warmly and positively. The other day I walked into Om Bookshop with my family and we saw the book sitting pretty on their Bestsellers shelf. That was a very precious moment. I am elated and also humbled but it also doubles my responsibility that my next book should be better than the first.
When did you first realize that you have the talent to be an author?
More than me it was my grandfather and then my mother who encouraged me. They both made me the bibliophile that I am, instilling the love of reading and writing. My mother would buy me these abridged versions of classics like Dickens and Twain. I started writing since a very early age and the journey continues. I am scarred for life and eternally grateful for that.
Author Satyarth with copies of his book at a bookstore.
You have been a script writer and a journalist before. How has been

your experience there?
It was a fabulous experience. I was a Correspondent with CNN-IBN for five years and it was an exciting phase. In fact my character Alia in the book who's a journo is quite derivative of this period of my life. As a journalist you are a part of hundreds of news stories and that is very stimulating. The script writer in me has only recently started its journey. Let's see how far he goes.
How and when did the idea of authoring The Emperor's Riddle arrive?
It was a freak act of nature. The idea arrived when I accidentally stumbled upon this historical legend of the Emperor. It was so fascinating and so detailed that my instant reaction was
'This can be a full length book'
. I was absolutely mesmerized by the legend and I knew I had to weave a plot around it and share it with the world. That's where the trail began much like the trail of riddles in the book.
Earlier Satyarth, you have contributed your stories for Chicken Soups for the Souls and then we have this first full-length novel of yours. Should readers expect more novels from you

?
The author posing with a copy of his book at the New Delhi World Book Fair.
Of course I would love to write more books. I am fascinated with the mystery thriller genre and would like to create many more interesting stories and characters. I have already begun work on my next book. This time I am exploring supernatural fantasy along with the thriller aspect.
Tell us what expectations do you have with this book?
Now that the book has made it to the Bestseller list, having any more expectations would be being greedy. All I want is more and more people to read and share this story. Also it's really sad that so few Indian authors are exploring the thriller genre today. I hope my book plays a role in encouraging more writers in the country to create good & intelligent thrillers.
Satyarth, if you are invited to motivate the budding authors, what would be your message of wisdom for them?
Many people ask me these days, what the right time to write a book is. My advice is that you must write only when you feel absolutely excited to do so. You will know it's the right time because the idea will so fascinate you that you won't be able to rest until you pour that story out. And have faith in your writing. The world will follow.